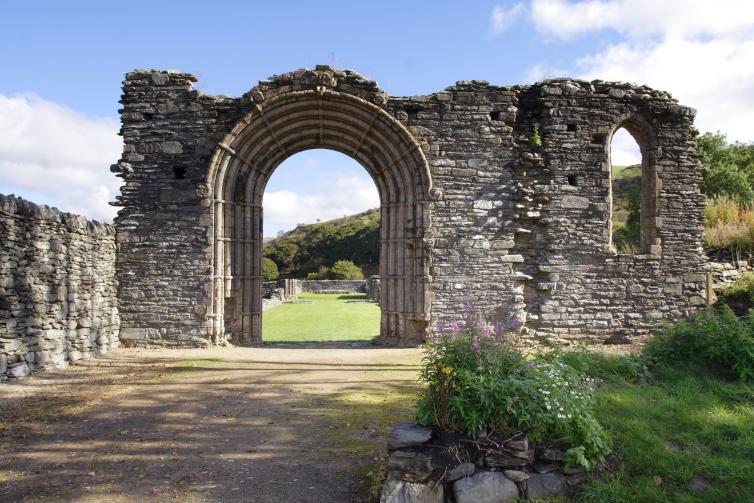 The landscapes of the Peaceful Places trail are home to many other attractions for you to enjoy during a day out.
Situated next to Saint Michael and All Angels' Church in Aberystwyth is the famous Castle Ruin, which offers spectacular views, places to picnic and numerous nooks and crannies for children to explore.
Also in Aberystwyth is the Ceredigion Museum, with its stunning interior and lively programme of events; and the National Library of Wales, featuring free exhibitions on Welsh history, art, rare books and manuscripts. If you have a head for heights then be sure to take a ride on the Aberystwyth Cliff Railway: one of the longest of its kind in Britain, offering uninterrupted views of the town and surrounding landscape.
No visit to North Ceredigion would be complete without a trip to Devil's Bridge Falls, a spectacular series of waterfalls set in the dramatic Rheidol Gorge, which have attracted sightseers since the 18th century. From here it's only a short journey to one of several destinations on the Peaceful Places trail: the tranquil Church of Three Saints at Llantrisant; the beautifully kept Capel Siloam at Cwmystwyth; the grand and pictureseque St Michael and All Angels' Church at Hafod; the 'little gem' of St John the Baptist Church at Ysbyty Ystwyth; the historic Capel Ebenezer at Ystumtuen; and the sacred site of St John the Baptist Church at Ysbyty Cynfyn… all of which are well worth discovering!
From Devil's Bridge it's also possible to catch a ride to Aberystwyth (and back) on the Vale of Rheidol Railway, a popular steam train route through stunning countryside with opportunities for nature-spotting along the way.
Anyone keen to explore local history would be advised to visit the famous Strata Florida Abbey near Tregaron, which has links with several destinations on the Peaceful Places trail (namely Ysbyty Cynfyn, Ysbyty Ystwyth, Llanfihangel-y-Creuddyn and Llanbadarn Fawr).
The Silver Mountain Experience is another attraction with a fascinating history to tell. Learn about the lives of local miners and experience the spooks and scares of the Black Chasm! Great fun for families, whatever the weather.
Also worth visiting is Dyfi Furnace, a restored 18th century charcoal fired blast furnace. Whilst here take a short trip down the road to the historic church of St Michael's, Eglwysfach, once the home of famous Welsh poet R.S. Thomas.
Pack your camera, pick a place on the map and start your adventure!